News
Are children too plugged in?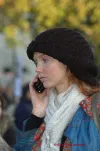 A study from the Massachusetts Aggression Reduction Center (MARC) into the role of technology in cyberbullying has discovered a startling fact: "83 percent of middle schoolers, 39 percent of fifth-graders, and 20 percent of third-graders have a mobile device." And these aren't simple phones, either. "Most children own cell phones with full Internet and text messaging access by Middle School." Moreover, by grade four virtually all children are online.
While bullying certainly precedes the digital age, technology seems to have abetted the practice and made it more widespread. In any case, the number who are victimized is deplorably high. Said the study, "In Elementary school, approximately 35 - 40% of children reported being targets of bullying. In Middle and High School, 50 - 53% of children reported being targets."
Elizabeth K. Englander of Bridgewater State University in Massachusetts, who conducted the study, made several recommendations. Among them:
*    Education on cyberbullying and cyber-behaviors needs to begin well before Middle School.
*    Elementary schools should consider adopting cell phone policies.
*    The Commonwealth should consider mechanisms for parent education.
Speed Matters promotes the use of the Internet and wireless communications, but it understands that the power of these devices means that some misuse is also inevitable, and that society needs to regulate some behaviors - particularly where children are involved.
Massachusetts Aggression Reduction Center study (2011)
http://cdn.theatlantic.com/static/mt/assets/science/Research%20Findings_%20MARC%202011%20Survey%20Grades%203-12.pdf


Massachusetts Aggression Reduction Center
http://webhost.bridgew.edu/marc/
Civil rights, labor, and public interest organizations urge the FCC to publish equal employment opportunity data by broadcasters and cable operators
Labor, civil rights, privacy, and consumer organizations urge Speaker Pelosi to schedule a vote on the American Data Privacy and Protection Act
New transparency measures for subcontractors passed by City of San Diego