News
Handful of telecoms, cable companies dominate broadband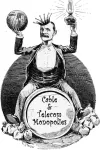 The U.S. broadband market is heavily dominated by just a few companies, and the ones at the top keep adding subscribers. This according to a report on the third quarter of 2014 by Leichtman Research Group, Inc. (LRG).
"These top broadband providers now account for 86.6 million subscribers – with top cable companies having over 51.2 million broadband subscribers, and top telephone companies having nearly 35.4 million subscribers," said the report.
Moreover, that cohort of 86 million is dominated by a few super-sized providers. In cable, Comcast and Time Warner have 21 and 12 million subscribers respectively, with Charter a distant third at 4 million.
And on the telecom side, the top of the market is AT&T (16 million), Verizon (9 million) and CenturyLink (6 million). Everyone else is much smaller.
In all, cable holds 60 percent of the broadband market.
Nonetheless, the broadband market continues to grow – particularly at the top.
Leichtman Research Group chief Bruce Leichtman said, "Despite there being 86.6 million broadband subscribers in the US via major cable and Telco providers, the industry has added subscribers at a faster pace over the past year than it did over the prior year."
86.6 Million Get Broadband from Top Cable and Telephone Companies (Leichtman Research Group news release, Nov. 18, 2014)


CWA urges the FTC and the DOJ to take into account in merger review guidelines the role of collective bargaining in counterbalancing employer market power
Senate confirms FCC Commissioners Geoffry Starks and Brendan Carr to a second 5-year term
CWA union petitions governor for oversight of telecom provider Zirrus