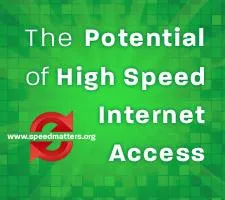 High-speed Internet is essential for economic growth, job creation, and global competitiveness. The United States – the country that invented the Internet – has fallen from 1st to 15th in high-speed Internet penetration. High-tech innovation, job growth, telemedicine, distance learning, rural development, public safety, e-government and solutions to our environmental problems require truly high-speed, universal networks.
Governmental action – in partnership with the private sector – is essential to stimulate broadband investment and adoption. Other countries are far ahead of us – it is time for the U.S. to take action.
Click here to learn about the Potential of High Speed Internet access.
High-Speed Internet Policy
In March 2010 the Federal Communications Commission adopted The National Broadband Plan that lays out a blueprint to increase high-speed broadband deployment and adoption. Policymakers should move forward expeditiously to implement the National Broadband Plan.
The Digital Divide
The digital divide leaves a large slice of our citizens without high-speed Internet. Those who "go without" are left out of the advantages of high speed Internet in areas as diverse as economic development, higher education, health, civic participation and information access. Universal Internet access would ensure that everyone has the chance to reap these benefits, and that no one is forced to remain on the wrong side of the digital divide.
Speed Matters
We need high-speed, universal networks to obtain the full benefits of the information and technology revolution. Internet applications – such as medical monitoring that allows a doctor to screen a patient at home or distance learning that permits a student to participate in classroom discussion with two-way video connection or "smart grid" monitoring of electrical usage to conserve energy and reduce utility bills – all require high-capacity two-way networks. Yet, the United States ranks 15th in the world in Internet speeds.
Universal Internet Access
High-speed Internet access is as vital today as other essential services such as phone, water or electric services. Those without these services – particularly people in rural areas or low-income households – are left stranded on the wrong side of the digital divide.
It is now time for the United States to implement the National Broadband Plan to ensure that we all benefit from the telecommunications and information revolution. Throughout our history we have been able to benefit from major technological advances because we adopted national policies to ensure the widespread and equitable deployment of those technologies. In the 19th century we adopted policies to develop canals and a national railroad system. In the 20th century we instituted policies to develop national telephone and highway systems.
In the 21st century, we need to have a national, universal high-speed Internet access policy.