News
NYC payphone conversion plan wins committee approval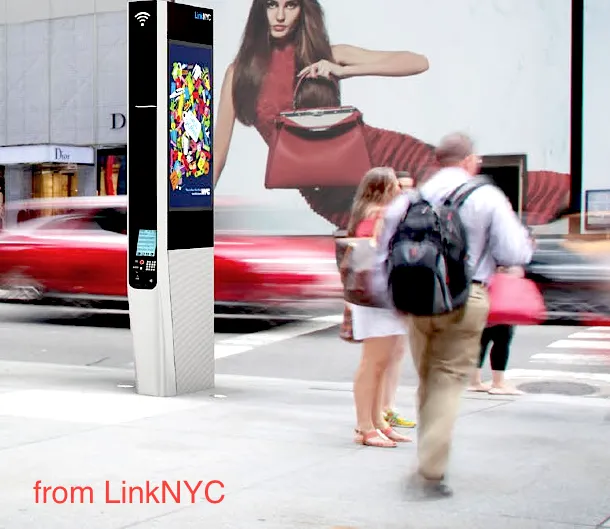 Last month, Speed Matters reported on New York City's plan to replace its system of public pay phones with a network of high-speed, multi-purpose Wi-Fi kiosks, called Links.
This week, the de Blasio administration – which had been pushing the plan – won over critics and received unanimous approval from the city's Franchise and Concession Review Committee.
The plan is expected to take years, but will eventually cover all five boroughs with thousands of Wi-Fi sites.
The project is being implemented by a consortium called CityBridge which consists of Titan, Qualcomm, Comark and other companies. Itwill be funded by advertising and is projected to generate  $500 million for the city over the next 12 years.
Mayor Bill de Blasio said "Every New Yorker stands to gain from this historic result that will make New York City a global leader in free wireless access at superfast speeds. "
New York to get citywide high-speed Wi-Fi (Speed Matters, Nov. 20, 2014)

Plan Approved for Wi-Fi at New York City's Pay Phones (NY Times, Dec. 10, 2014)


CWA urges the FTC and the DOJ to take into account in merger review guidelines the role of collective bargaining in counterbalancing employer market power
Senate confirms FCC Commissioners Geoffry Starks and Brendan Carr to a second 5-year term
CWA union petitions governor for oversight of telecom provider Zirrus