News
Verizon strike hurting company profits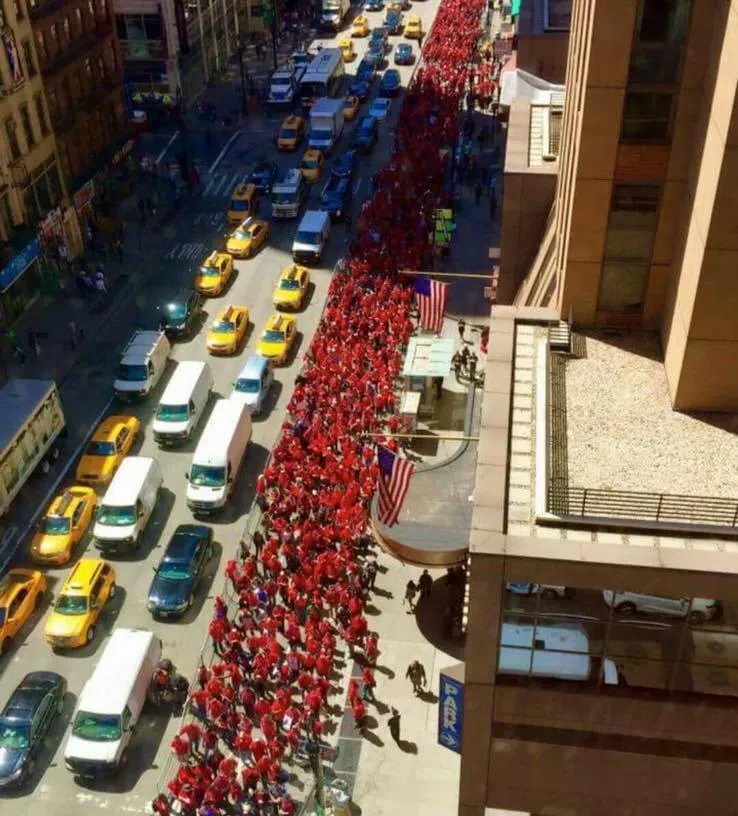 A week after Verizon workers walked off the job, the company is feeling the effects. Verizon shares aredown 4 percent to $49.68 – while the S&P 500 is down only 0.5 percent – and the company warned that the ongoing strike by the Communications Workers of America (CWA) and the International Brotherhood of Electrical Workers (IBEW) members coulddamage second quarter earnings.
"Given the status of our labor contract negotiations, there will be pressure on earnings,"said Verizon Chief Financial Officer Fran Shammo. In other words, the strike is already costing the company profit. In addition, several investment firms – including Jeffries, Scotiabank, Sanford Bernstein – have recently downgraded their Verizon ratings.
Verizon executives and investors aren't the only ones feeling the impact of the strike.Customers are experiencing delays in new installations, despite Verizon's attempt to train lawyers, accountants, and managers to do the work of skilled, trained frontline technicians and customer service representatives. Moreover, a skilled workforce is needed now more than ever. Verizon's service quality has deteriorated to the point that New York State's Public Service Commission has convened a formal hearing to investigate problems across the Empire State. Regulators in Pennsylvania and New Jersey have launched similar inquiries into Verizon's operations.
About 40,000 Verizon workers represented by CWA and the IBEW are in their second week on strike. It's a big deal to go onstrike, but Verizon workers have had enough. The unions have been negotiating with Verizon for 10 months. Verizon – which made $39 billion in profits in the past three years and $1.8 billion every month in 2016 – continues to demand deep cuts in health care benefits, pensions, offshoring work, sending call center work overseas, and the ability to send technicians to work away from home for months at a time.
"My co-workers and I want nothing more than to help our customers get the service and quality they want and deserve and provide for our own families," said Verizon field technician Anthony Finocchio, who walked off the job last week. "By settling a fair contract that protects good jobs in our communities, Verizon can reestablish itself as a company that values its customers and invests in its own long-term strength and success."
CWA and IBEW set to go on strike at Verizon (Speed Matters, Apr. 11, 2016)
Verizon strike gains strength, support from presidential candidates and elected officials (Speed Matters, Apr. 19, 2016)
Verizon warns strike could `pressure' earnings (USA Today, Apr. 21, 2016)
Verizon warns strike could hit earnings (The Hill, Apr. 21, 2016)
Verizon wireline workforce labor strike causing installation delays (FierceTelecom, Apr. 15, 2016)
NY regulators launch investigation into Verizon's copper network (Speed Matters, Mar. 18, 2016)
PA Public Utility Commission announces hearings into Verizon's systemic neglect (Speed Matters, Feb. 23, 2016)
NJ Board of Public Utilities to investigate towns' complaints against Verizon (Speed Matters, Feb. 26, 2016)
CWA urges the FTC and the DOJ to take into account in merger review guidelines the role of collective bargaining in counterbalancing employer market power
Senate confirms FCC Commissioners Geoffry Starks and Brendan Carr to a second 5-year term
CWA union petitions governor for oversight of telecom provider Zirrus